Necrael The Spiteful
So I know it's been a bit since I posted an update but we've been doing some awesome things live on stream over at https://www.twitch.tv/everbraveart.  Go leave a follow to get notifications next time I go live so you can join in and contribute to the development of the game through feedback and ideas!
So what have we been doing, exactly?  We've been designing and implementing the first real boss in the game, Necrael The Spiteful.  His name doesn't do him justice and the items he can drop are just as awesome as they sound; Necrael's Soul, Necrael's Sin and Necrael's Spite.  I don't want to spoil what they do right here, but trust me, they'll be worth doing this boss fight a few times to try to collect the full set.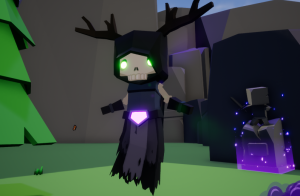 More info to come! Hope you find your way into the Twitch channel sometime.  Watch Swords 'n Magic come to life in front of your very eyes! It's a blast!